ETP Suppliers in Maharashtra
Larco India Pvt. Ltd., Pune: Your Trusted Partner for ETP Suppliers in Maharashtra.
Larco India Pvt Ltd Pune is a leading ETP  suppliers in Maharashtra. With a strong focus on environmental sustainability and regulatory compliance, Larco India Pvt Ltd offers a wide range of innovative solutions for the efficient treatment and management of wastewater. The company caters to diverse industries, including the sugar industry, hospitals, textile dyeing units, and more. With a commitment to excellence, Larco India Pvt Ltd delivers customized ETP plants designed to meet the specific needs of each industry while ensuring optimal performance and adherence to environmental standards.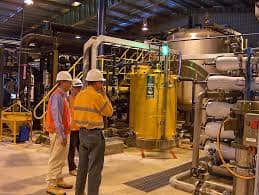 ETP Suppliers in Maharashtra:
Larco India Pvt Ltd is a reputable ETP  manufacturer in Maharashtra combining knowledge and cutting-edge technology to deliver superior solutions. The organization provides a streamlined process from inception to commissioning while designing, manufacturing, and installing ETP facilities. Larco India Pvt Ltd provides dependable and effective ETP manufacturer in Maharashtra is also facilitates that efficiently treat wastewater and guarantee compliance with legal requirements through an in-depth knowledge of the local industrial landscape.
Effluent Water Treatment Plant in Maharashtra:
Larco India Pvt Ltd Pune specializes in providing state-of-the-art effluent water treatment systems in Maharashtra. These facilities are designed to clean and treat wastewater produced by various industries. The ETP Suppliers in Maharashtra operated by Larco India Pvt Ltd use cutting-edge treatment techniques to eliminate impurities such as suspended particles, organic compounds, chemicals, and colorants, producing effluent discharge that is clean and safe for the environment.
Effluent Treatment Plant for the Sugar Industry:
Larco India Pvt Ltd offers specialized Effluent treatment plants to meet the industry's specific wastewater management needs. The company's ETP plants for the sugar industry efficiently remove suspended solids, chemicals, colorants, and other organic and inorganic contaminants. Sugar mills can reduce their environmental effect, assure compliance with strict laws, and support environmentally friendly water resource management by installing ETP plants from Larco India Pvt Ltd.
Compact Effluent Treatment Plant in Maharashtra:
With space constraints being a common challenge, Larco India Pvt Ltd provides compact effluent treatment plants designed to optimize space utilization without compromising treatment efficiency. These compact plants are ideal for industries in Pune where space is limited. Larco India Pvt Ltd's expertise in compact ETP plant design allows for easy integration into existing facilities while ensuring high-performance wastewater treatment.
Standard A Effluent Wastewater Treatment Plant:
Larco India Pvt Ltd takes pride in offering Standard A effluent wastewater treatment plants that adhere to the highest industry standards. These plants incorporate advanced treatment technologies and processes to efficiently remove contaminants from wastewater. By implementing Larco India Pvt Ltd's Standard A ETP plants, industries can ensure the desired effluent quality and maintain compliance with stringent environmental regulations.
Effluent Treatment Plant for Hospitals:
Hospitals and healthcare facilities generate wastewater that requires specialized treatment. Larco India Pvt Ltd offers customized effluent treatment plants for hospitals, designed to remove harmful substances such as pathogens, pharmaceutical residues, and toxic chemicals. By partnering with Larco India Pvt Ltd, hospitals can achieve safe and compliant wastewater treatment, prioritizing patient safety and environmental protection.
Laundry Effluent Treatment Plant in Maharashtra:
Larco India Pvt Ltd understands the challenges faced by laundries and textile industries in treating their effluent. The company provides efficient and reliable laundry effluent treatment plants in Maharashtra, and also ETP suppliers in Maharashtra.  specifically designed to remove suspended solids, organic compounds, and dyes. Larco India Pvt Ltd's solutions help these industries achieve sustainable wastewater management, ensuring compliance with environmental regulations while minimizing their ecological footprint.
Effluent Treatment Plant for Textile Dyeing Industry:
The textile dyeing industry requires specialized effluent treatment solutions to manage the wastewater generated during the dyeing process. Larco India Pvt Ltd offers tailored ETP plants for the textile dyeing industry, incorporating advanced treatment processes to efficiently remove colorants, chemicals, and other contaminants. By implementing Larco India Pvt Ltd's effluent treatment plants, textile dyeing industries can achieve sustainable wastewater management while reducing their environmental impact.
Effluent Treatment Plant Services in Maharashtra:
Larco India Pvt Ltd goes beyond manufacturing and installation by providing comprehensive effluent treatment plant services in maharashtra. The company offers maintenance, repairs, upgrades, and performance optimization services to ensure the continued efficiency and effectiveness of ETP plants. Larco India Pvt Ltd's team of skilled engineers and technicians is available to provide ongoing support, ensuring the longevity and optimal operation of the ETP plants.